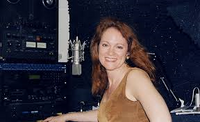 Lora Cain was a guest announcer on Wheel of Fortune for the weeks of January 10 and February 14, 2011. Strangely, her first week had Vanna White reading the Jackpot and Mystery promos plus the SPIN ID.
Cain is by far the most obscure of the fill-ins, with no major roles except a single appearance in Stranger than Fiction and a secondary character in the video game Fallout: New Vegas. However, she has been heard in several TV commercials, TV station news introductions, and on Jimmy Kimmel Live! She also served as announcer on the Marc Summers pilot for Sony/King World's unsold game show Combination Lock in 2006.
External Links
Edit
Ad blocker interference detected!
Wikia is a free-to-use site that makes money from advertising. We have a modified experience for viewers using ad blockers

Wikia is not accessible if you've made further modifications. Remove the custom ad blocker rule(s) and the page will load as expected.