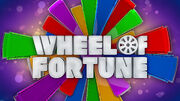 Go back to Season 35?
A timeline for Season 36 of Wheel of Fortune, which will air in first-run from September 10, 2018 through June 7, 2019.
Season Changes
Edit
The studio intro from Season 34 is used.
When a contestant calls a letter, the letter appears in a light grey circle on the bottom left corner of the screen. A red slash appears through it if the letter is not in the puzzle.
This is the first season since Season 34 not to have a Halloween week.
September 2018
Edit
September 10 is Teacher's Week, taped July 26. During this week, the opening graphic has pictures of Pat and Vanna in grade school added to two of the buildings.
On September 11, Classic TV is used for the first time since Janaury 9, 2013.
On September 13:

The Prize is a $10,200 trip to Spain.
For the first known time, Headline is used in Round 4.

On September 14, six rounds are played.
September 17 is Gone Fishin', taped August 9. During this week, the Season 28 Outdoor Adventure Week intro is used, which features the Pat and Vanna Wii avatars fishing.
On September 17, Dr. Oz makes a cameo in the closing segment. Footage is shown of him, Pat, and Vanna demonstrating CPR techniques.